The Quality of Our Estate Jewelry
The first thing many retailers consider when working with an estate jewelry wholesaler is the quality of the pieces. At White Pine, we understand that – that's why we guarantee the quality and authenticity of our diamonds and fine jewelry.
Any piece that contains natural diamonds is verified using the De Beers Synth Detect machine
We screen for synthetic and lab-grown diamonds
All White Pine One-Of-A-Kind procuced items have a 1 year warranty
White Pine is pleased to offer high-quality estate jewelry pieces, including:
Items acquired from consumers
Estate acquisitions
One-Of-A-Kind production pieces
Closeout jewelry
Vintage jewelry
Antique jewelry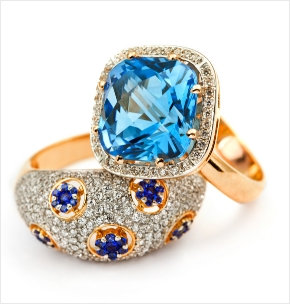 White Pine: An Established and Trusted Estate Jewelry Wholesaler
When searching for new wholesale jewelry partners, it's important to do your due diligence. While the industry has its share of less reputable players who may not be licensed, insured, or verified, taking the time to find a trustworthy partner like White Pine can ultimately lead to a more successful and long term business relationship.
For more than a decade, White Pine has been at the forefront of the jewelry industry and enjoys a sterling reputation. With an overall consumer rating of 4.8 out of 5 stars, our satisfied customer reviews speak for themselves.
How the White Pine Order Process Works
If you're new to working with us, your first step will be to create a new customer account.
To do so, simply log into the Company Account page and follow the prompts. You'll be ready to go right away.
Having your own account allows you to:
Access pricing
Make your selections from our current vintage jewelry collection
Check out faster on return visits
Save multiple shipping addresses
Access your order history
Track new orders
Once you've created an account, you can log back in as an existing customer at any time.
Frequently Asked Questions
What types of estate jewelry are typically sold wholesale?

Estate jewelry sold wholesale includes beautiful pre-owned selections and one-of-a-kind pieces. All White Pine estate jewelry is appraised and includes bracelets, rings, necklaces, watches, earrings, bangles, pendants, brooches, and cufflinks.

How do I know if estate jewelry is authentic when buying wholesale?

Whether you're buying gold, white gold, sterling silver, or any type of ring, bracelet, necklace, or other jewelry item, you should always do your own research, ask for certifications, and check for hallmarks. With White Pine, you will never have to worry about expectations not matching reality. All of our diamonds are tested with the DeBeers Synth Detect machine and our GIA trained experts review and value every piece of jewelry to check for authenticity and wear and tear.

What are the benefits of purchasing estate jewelry wholesale?

By purchasing estate jewelry wholesale, you can access unique, sustainable, and high-quality pieces at competitive prices that help build your instore sales and customer loyalty.

How does White Pine offer such great prices?

We're able to offer retailers such great prices because of our excellent sourcing, our competitive margin, and our volume of sales. This allows us to pass on big savings to our valued customers.

What makes White Pine one of the best estate jewelry wholesalers on the market?

White Pine's wide inventory of vintage selections and custom jewelry pieces, strong industry reputation, and competitive prices make us one of the best jewelry wholesale partners on the market.